Welcome to the Village of Paw Paw's New Website!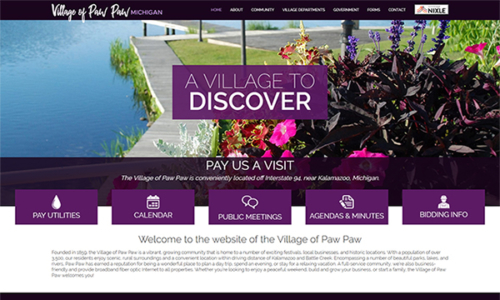 If you're a regular visitor to our website, you've probably already noticed that it's undergone quite an overhaul. Aiming to better reflect the vibrancy, allure, and beauty of Paw Paw, we completely revamped the site, giving it a bright color scheme; large, high-resolution photographs; and a much-needed organizational revamp. With the hope of making it easier for both locals and out-of-towners to find the pages that they need, we've completely reworked – and drastically reduced – the site's information.
Best of all, our new website is now completely mobile responsive! Understanding the prevalence of smartphones and tablets, we wanted to create a site that represented our village, no matter what device the browser is using. In addition to this, we've also added tons of new photographs that really showcase the beauty of Paw Paw. Whether you're interested in the views afforded along the banks of Maple Lake or the historical atmosphere of the downtown district, you're sure to find pictures that show off the scenic, enticing environs that the village has to offer.
If you have questions, comments, or concerns about the new website, we encourage you to contact us today to let us know your thoughts!